Amara Box | Mixed Mini
Regular price

RM 1,080.00

Sale price

RM 1,080.00

Regular price

RM 0.00
RM 12.00
with 3 installments via
Share
Includes
// Grossgrain Ribbon - (colour of the ribbon will be fitted with the colour of praline)
// Mixed Mini
2x pralines | 1x Hand-Painted & 1x Sprinkles
2x macarons | Colour of your choice
2x madeleines | Glitters
Sizing
The Box // 17.5cm (W) x 7.8cm (L) x 3.5cm (D)
Rectangle Praline // 2.4cm x 5cm per piece
Macaron // 4cm diameter
Madeleine // 3cm x 4cm per piece
Additional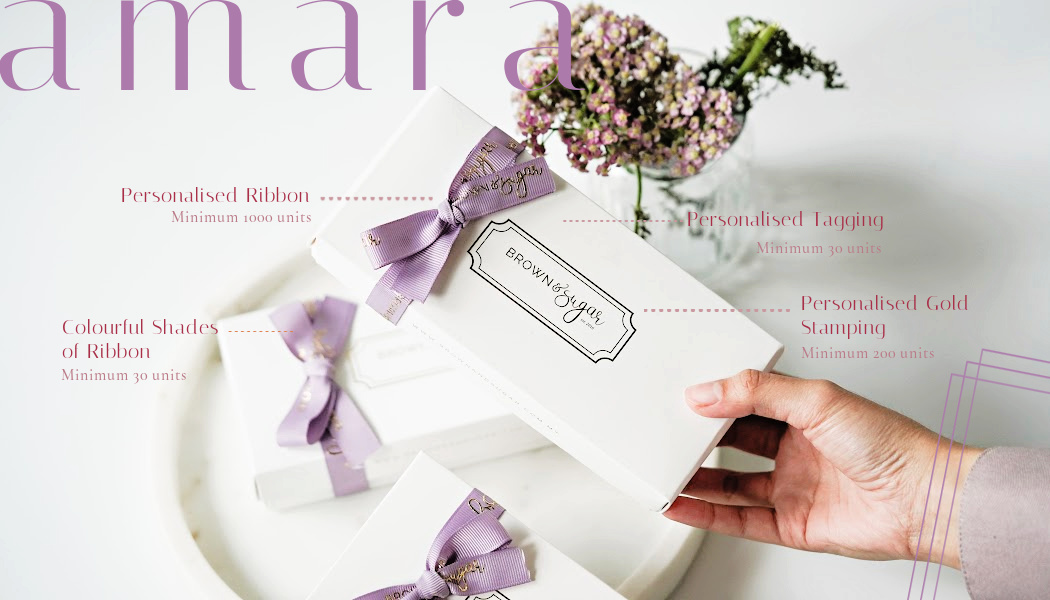 1. Personalised Tagging
Minimum order 30 sets, RM0.50/pcs.
2. Personalised Wordings on Box Cover
Minimum order 200 sets, RM0.89/pcs. Order 300 sets and above entitled FREE personalised header.
3. Personalised Ribbon
Customized ribbon available for RM1250 for 10 roll per color (1 roll = 100 yards). Order 1000 sets and above entitled FREE personalised ribbon.
4. Colorful Shades of Ribbon
Customer able to choose ribbon shades available. Minimum 30 sets per shade. Contact our Customer Representative to know available ribbon shades at the moment.
5. Customize Painting
Customize painting other than our usuals will imply extra charges starting from RM0.50 to RM2.00 per piece. Depends on difficulty of painting design provided.
6. Customize Edible Print
Customize edible print will imply extra charges of RM1.00 per praline.
7. Transparent Window Cover
Minimum order 100 sets, add on RM3.00/pcs
Flavours
Praline Flavours
Flavour availability depends on the season. Once you purchase 30 units, we will contact you through WhatsApp to let you choose the available flavour.
Philly (Creamcheese Walnut)
Feulittine Hazelnut
Hazelnut Chocolate (Noisette Lait)
Sea Salt
Earl Grey
Macadamia
Speculoos
Milk Chocolate
Raspberry
Coconut
Pistachios
Almond
Mango
Passionfruit
Dark Chocolate
Macaron Flavours
The flavours of your macaron will be determined by the colour chosen. Each shade has its own specific flavour. If you would like to have a particular macaron flavour, kindly be informed that the colour will be as listed below and not according to the chosen colour palette. In short, customers are only able to choose either the macaron colour OR the macaron flavour.
- THE COLOUR & THE FLAVOUR -
SHADES OF NUDE & BASIC
OFF WHITE
VANILLA WITH SALTED CARAMEL
CHAMPAGNE
PASSIONFRUIT WITH DARK CHOCOLATE
SAND
HAZELNUT WITH NUTELLA
ALL SHADE OF GRAY
TAHINI
BLACK
DARK CHOCOLATE WITH ALMOND PRALINE
PECAN PIE
VANILLA PECAN WITH SALTED CARAMEL
CAFÉ AU LAIT
SALTED CARAMEL MACHIATTO
SHADES OF PURPLE
VERY GRAPE
EARL GREY WITH BLUEBERRY
PURPLE LACE (ORCHID PETAL)
TIRAMISU
LILAC (LIGHT PURPLE)
LEMON WITH BLUEBERRY
MAUVE MIST
PISTACHIO WITH RASPBERRY
SOFIA (PASTEL VIOLET)
DARK CHOCOLATE WITH LAVENDER
SHADES OF PINK
BARBIE PINK
CHOCOLATE WITH RASPBERRY
ROSE GOLD
RASPBERRY FRAMBONOSA
BUBLEGUM (SWEET LILAC)
APPLE PIE
BLUSH (HASHED VIOLET)
VICTORIA

SHADES OF PEACH
ORANGE
CINNAMON WITH APRICOT
OLD BRICK
CHOCOLATE WITH ORANGE CURB
PEACH (LIGHT)
CREAMY ORANGE WITH MANGO
PALE DOGWOOD
PEANUT BUTTER & JELLY
SHADES OF YELLOW
PASTEL YELLOW
PASSIONFRUIT MANGONOSA
MUSTARD
VANILLA APRICOT
SHADES OF RED
BURGUNDY RED
CHOCOLATE VANILLA MARBLE
HOLIDAY RED (LIGHT)
COOKIES & CREAM
CORAL (LIGHT)
PASSION FRUIT WITH STRAWBERRY
SHADES OF GREEN
CHIVE (DEEP GREEN)
PISTACHIO
MINTY LIGHT GREEN
EXPRESSO WITH WHITE ROSE
SAGE (LIGHT)
PANDAN KAYA
OLIVE (DUSTY GREEN)
THAI GREEN TEA WITH CHOCOLATE
CELADON
MINT CHOCOLATE CHIP
SHADES OF BLUE
NAVY (DEEP BLUE)
HAZELNUT CAPPUCINO
POWDER BLUE
VANILLA CHOCOLATE LATTE
SKY BLUE (LIGHT)
MILK TEA WITH BISCOFF
JADE BLUE (DEEP BLUE TURQUOISE)
SWIRL CHOCOLATE WITH PEANUT BUTTER
TURQUOISE (LIGHT)
LEMON STRAWBERRY
ROYAL BLUE
EARL GREY WITH APRICOT
BABY BLUE
BUTTERFLY PEA WITH THAI TEA
STEEL BLUE
LAVENDER WITH DARK CHOCOLATE
CADET BLUE
VANILLA WITH BISCOFF
Madeleine Flavours
Once you purchase 30 units, we will contact you through WhatsApp to let you choose the available flavour.
Orange + Chocolate
Lemon Blueberry
Hazelnut
Vanilla
Shelf Life
Pralines
Best to consume within a week from your Event Date
(3 days at room temperature OR 14 days keep in the refrigerator)
Macarons & Madeleines
Best to consume within 8 hours upon receiving it.
(3 days in the refrigerator)
T&C
BY SUBMITTING PAYMENT FOR A CUSTOM ORDER, YOU AGREE TO THE FOLLOWING:

CUSTOM ORDERS

Custom Orders placed with Brown & Sugar Concept require a confirmation of order requirements & payment prior to work beginning. A 'Custom Order' is defined as any product that is made-to-order or any product that was not in stock and readily available to deliver at the time of purchase.

Custom Orders are deemed Final Sale and are not able to be returned or refunded. Once an order is processed, unfortunately NO CHANGES MAY BE MADE.

PLEASE REVIEW PROVIDED DRAWINGS PRIOR TO APPROVING FOR PRODUCTION. NO CHANGES MAY BE MADE AFTER APPROVAL IS RECEIVED.

PRICING

Due to variances in raw material prices, quotes and invoices provided are valid for 7 days from send date. Pricing is subject to change until orders are placed and paid for per agreed-upon terms. Estimates provided throughout the custom order process are estimates only and do not reflect the actual pricing to be paid for production.

PAYMENT

Full payment must be collected prior to the start of all custom orders. Online banking, manual bank transfer & Celcom Aircash are the only accepted forms of payment. Brown & Sugar Concept reserves the right to suspend an order at any time until payment or adequate assurance of payment is received.

CANCELLATIONS, REFUNDS and RETURNS

Brown & Sugar Concept does not accept returns or cancellations on any custom orders, unless the specifications or quality of Brown & Sugar Concept standards are not met. Returns for defects/errors in products delivered to customers must be filed via email to bns.brownandsugar@gmail.com or phone at +60 18 316 8000 no later than 12 hours from delivery of order.

Full payment is required for custom orders. Once production has commenced all costs of production have been incurred therefore cancellation is no longer possible, and the custom order cannot be refunded. The custom order lead time is estimated at 12-16 weeks. This does not include weekends or holidays.

All custom orders MUST be cancelled or have changes made 3 full months BEFORE the pick up day, to receive a full refund* or have changes made.

(*minus a 6% fee this is because Brown & Sugar Concept incurs refund processing fees, the cost for ingredients, loss of other potential orders, and prep work time and planning done for your custom order)

(Examples: Custom order pick up day is 30th May. Customer would have to cancel or change their order by closing 30th February to receive a full refund or to make changes to their order. If customer calls to cancel or change their order on 30th April, changes can NOT BE MADE and they would receive NO REFUND.)

Custom orders not claimed within 48 hours of completion are forfeited and the property of Brown & Sugar Concept. Refunds are not given for custom orders not claimed within this grace period.

DESIGN OWNERSHIP

Brown & Sugar Concept is happy to provide our customers with custom products that meet the design requirements desired. Unless agreed upon prior to order, the designs for these projects and associated work & files are the sole property of Brown & Sugar Concept. No royalties will be given for custom designs that grow into a stocked product.
FAQ
Doorgift Frequently Ask Question
CAN I CUSTOMIZE THE COLOUR OF THE BOX?
Yes, you can with a minimum purchase of 1000 boxes.


DO THE BOX EVER CHANGE?
Yes, they do. We're constantly innovating and updating our product portfolio to refresh existing boxes and always coming up with new box ideas.


CAN THE ITEMS MELT?
Hey, it's made out of Chocolate! Of course, it can melt if you leave it outdoor/ inside the car at the parking/ reach the direct sunlight or anywhere above 24°C. So keep it somewhere cool, okay!


I HAVE A SPECIFIC THEME. CAN YOU DESIGN ACCORDING TO IT?
Of course, kindly provide your preferred theme to our customer representative team, and we'll gladly do it for you! Additional charges may apply depending on the difficulty.


CAN I PURCHASE ONLY 1 BOX FOR A SAMPLE?
Yes, you can. Please contact our customer representative to know how!


HOW DO WE KNOW WHICH IS WHICH FLAVOUR?
We call it love at first bite! Flavours will be given randomly, but if you would like to have certain flavours in the gift box, let our team know and we will provide you with the flavours available. We can also customize the packaging based on the flavours you choose. Just buzz our team to know more!


CAN I PURCHASE LESS THAN THE MINIMUM QUANTITY?
We're sorry. 30 sets are our minimum quantity as that's the best number we can be cost-effective in production.


CAN I CUSTOMIZE WHAT WILL BE INSIDE THE BOX?
Yes, you can! We have a wide range of mini treats for you to choose from. You may contact our team to discuss this further.


I HAVE MY OWN RIBBON. CAN YOU TIE A RIBBON FOR ME?
Yes, with minimal service charges imply.



I HAVE MY OWN BOX. CAN YOU FIT THE BAKED GOODS FOR ME?
Send the picture to us, or you could drop by and send the box to us for fitting purposes. Strictly no walk-ins to our premises for now.